DeathWatch : directed by Michael J. Bassett (2002)
In 1917, in the Western front, a group of survivors of the British Company Y reach the most forward German trench in a foggy night. They capture a German soldier that advises that evil is in the trench, forcing the soldiers to kill each other, and asks them to leave the place. Only the private Charlie Shakespeare listens and helps the prisoner, while a supernatural force scares and makes the soldiers insane.
Full Movie uploaded by supermoreliamexico
http://www.imdb.com/title/tt0286306/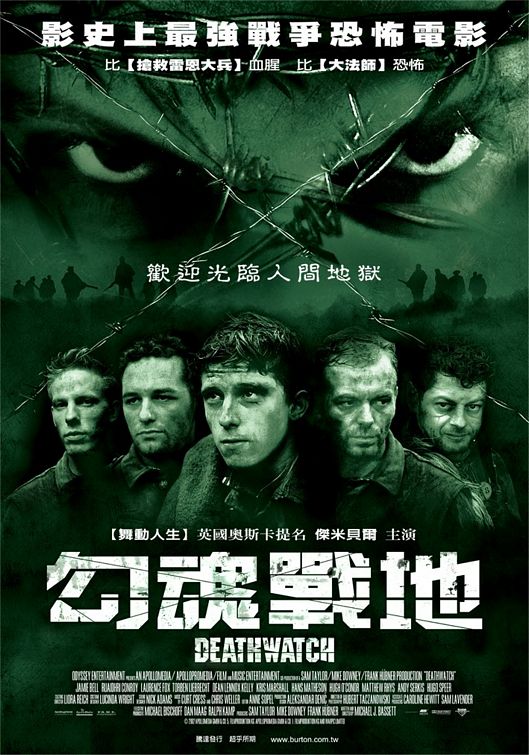 XXXXXXXXXXXXXXXXXXXXXXXXXXXXXXXXXXXXXXXXXXXXXXXXXXXXXXXXXXXXXXXXXXXXXXXXXXXXXXX
Dog Soldiers :
A British Squad is sent on a training mission in the Highlands of Scotland against Special Operations squad. Ignoring the childish "campfire" stories heard about the area, they continue with their mission and come across the bloody remains of the Special Ops Squad, and a fierce howling is pitching the night sky... With two mortally wounded men, they make an escape, running into a zoologist by the name of Megan - who knows exactly what hunts them. What began as what they thought was a training mission turns into a battle for their lives against the most unlikely enemies they would have expected - werewolves.
Full Movie uploaded by Swansea Jack
http://www.imdb.com/title/tt0280609/?ref_=fn_al_tt_1
(Christopher Lovell)