The Vault of Horror (otherwise known as Vault of Horror, Further Tales from the Crypt and Tales from the Crypt II) : Directed by Roy Ward Baker (1973)
Five men trapped in the basement vault of an office building share visions with each other of their demise. Stories revolve around vampires, bodily dismemberment, east Indian mysticism, an insurance scam, and an artist who kills by painting his victims' deaths. Inspired by Al Ferdstein's 1950's EC horror comics anthologies.
Full movie uploaded by gabo svetac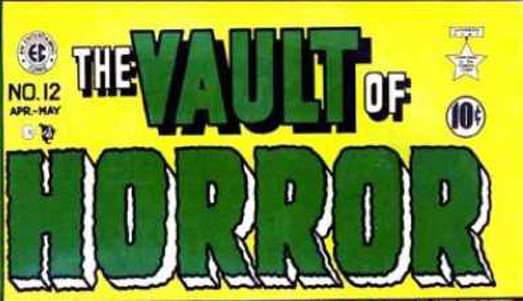 Like its horror companion titles, Tales from the Crypt and The Haunt of Fear, The Vault of Horror had its own distinctive qualities and atmosphere—in this case, created by its main artist, Johnny Craig. Craig illustrated all the covers for the entire run and was responsible for the lead story of all but issues #13 and #33. He also wrote all his own stories (save two) in Vault, something rarely done at EC, and became editor with issue #35 (February, 1954). Gaines and Feldstein wrote almost every other story until late 1953/early 1954 when outside writers Carl Wessler and Jack Oleck were brought in. Other contributing artists toThe Vault of Horror were Feldstein, George Evans, Jack Kamen, Wally Wood, Graham Ingels, Harvey Kurtzman, Jack Davis, Sid Check, Al Williamson, Joe Orlando, Reed Crandall, Bernard Krigstein, Harry Harrison and Howard Larsen.
http://en.wikipedia.org/wiki/The_Vault_of_Horror_(comics)
http://www.coverbrowser.com/covers/vault-of-horror
See also ~
http://beautiful-grotesque.posterous.com/tales-from-the-crypt
http://beautiful-grotesque.posterous.com/creepshow
http://beautiful-grotesque.posterous.com/eerie-creepy-frank-frazetta-various-...